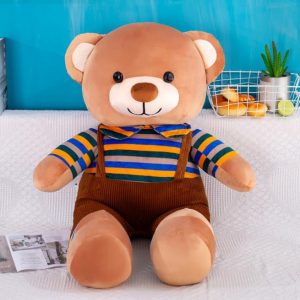 Material: Skin-friendly crystal velvet
Fill: 3D PP cotton
Size: 60cm, 80cm, 100cm
Color: dark blue, brown
Using high-quality soft fabric, it is comfortable and delicate, and feels smooth and silky. High-tech electric embroidery allows products to display high-quality details. Imported environmental protection PP cotton filling, soft, full and elastic, not easy to deform under long-term pressure.
Historical brief:
At the end of the 19th century, Margaret Steve of Germany founded Steve, and her nephew, Richard Steve, took on the task of designing a paper doll for the fluffy doll. In 1905, Steve launched the Richard Steve Bear with a cute expression, round face, sharp kiss, embroidered nose, and round body. Since then, the fluffy bear has entered a glorious period, and Richard Steve has become the most famous designer in the history of the fluffy bear. Staples Bear is becoming more popular in the United States, and people are beginning to name it with the favorite "Teddy". In this way, the Staples Bear officially became a kind of teddy bear.
Nowadays, there are hundreds of brands of teddy bears in the world, the most famous of which is of course the German Stäbis, in addition to Hermann, Kosen (Germany), Gund, Russ, Little Gem (USA), GANZ (Canada), Merrythought (UK), AURORA (Korea) and other world famous brands.
Today's teddy bears are like Barbie dolls. They are no longer the concept of ordinary toys. More, they are endowed with special commemorative meanings and bear the role of inheriting a certain culture. Especially in Europe and America, a teddy bear can be regarded as a member of the family, and even accompany a family of three generations to grow up.